The Trout
I've caught a few trout before, but none of them were wild so if you consider those a "Catch" then, great, otherwise, well I didn't catch any. I went to the same trout farm. I'll tell you about my first experience. It was with a camp we went on a tour of the hatchery and then we got to catch a trout in the kiddie pool. It was too easy. Then, justas rcently as July 18th, me and my regular fishing partner, Martin went to the same Trout Hatchery as before but this time we fished the grown-up pond. It was sort of funny how it all happened. I was the only one catching fish! I caught 5 nice rainbows one measuring 12 inches, which was larger than average in the pond. The problem is though with trout farms is that you don't actually learn anything about reading the water. Still, its great to learn how to fish and a great way of getting a good meal. Now, most information is about lakers so, I'm going to tell you about brookies, browns and rainbows.

Brook Trout info
Spawn : Last three months of the year
Temperature preference : 54 degrees farenheit
Best lake : Eutrophic
Oxygen Requirement : 5.0 parts per million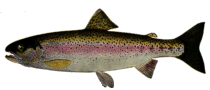 Rainbow trout
Spawn : April and May
Cover : Deep lakes in summer, Spring and fall fast-flowing rivers and below dams
Water : Streams and rivers
Temperature preference : 55 degrees farenheit
Best lake : Eutrophic
Oxygen requirement : 1.5 part per million

Brown Trout
Spawn : October through February
Cover : clean gravel and rubble in riffle areas
Water : Cool tributary streams for spawning
Temperature preference : 60 degrees farenheit
Best lake : Eutrophic
Henry Wasczuk & Italo Labignan recommend :
Rainbows :
Mepps Aglia
Panther Martin
EGB
Pixie
Flatfish for trolling
Rapalas
Brook Trout:
Mepps & Blue fox spinners
EGB
Small Floating rapalas
Brown Trout :
Mepps & Panther martin spinners
EGB
The hunting & fishing library recommends :
Panther Martin spinners
Mepps spinners
Wob-L-Rite spoon
Super Duper
Little jewel spoon
Countdown Rapala
Floating rapala
My tips
I can recommend corn. As well, I always recommend a worm. Attach the worm to a small hook but hide the hook and use no snap-swivels. When attaching a bobber, go low-pro consider using clear floats or Thill Floats. Experiment wit the depth of the hook, the day I was cathing trout, we set the hook 4 feet off the bobber, but whatever, give it a try.